"I wondered

all my life

what happened to my great-grandfather. Today, the old soldier emerged from the haze of time and came alive for me,

thanks to historian Clay Feeter"

-Bonnie Johnson upon learning her ancestor and his

Minnesota regiment lost more men fighting the 1862 Souix

Uprising than they lost during the entire rest of the Civil War










Brief Presentation Description:




IT'S LIKE ATTENDING AN

'ANCESTORS ROAD SHOW'
Civil War Ancestor
Researcher & Historian
Clay Feeter's specialty is:
A. Taking the otherwise dry facts and bringing them to life...walking your group through the thrilling story of their Civil War era kin – men, women, children and the communities they lived in; that were impacted by the drama of "America's Greatest Earthquake"...
B. Clay paints the picture of the turbulent time, placing your ancestors' stories in proper context within the realm of "The War of the Rebellion."
You'll learn the stories of your ancestors' battlefield experiences (or her experiences for those who's kin includes army nurses) – enlightening research that sets the stage for the Many next steps to your ever-evolving soldier-ancestor exploration...
There is a plethora of incredible ways to "open up Pandora's Box," ranging from finding out how to get your own kin's or possibly his fellow soldier's letters home – So many ways to add to your ancestors' stories...and maybe even plan a future personal battlefield tour for you and your family.
Feeter's presentation helps you understand the impact of that era on your ancestors who fought, but also the hardships and the undertaking of changed lives on the homefront as wives and daughters prepared to launch our country's
first great women's movement.
What libraries & groups ALSO get with your Discover Your Civil War Ancestors presentation package:
Very effective, time-tested press release/photo packages, ready to be sent to local media outlets (all you do is fill in the date, time, address and add in your own library or group promotion).
(Picture above) Clay with his wife Joyce Bilodeau during a visit to Little Round Top, Gettysburg National Battlefield Park. The
couple lives in York, Maine, where Joyce is a registered nurse; Clay is a former watersports magazine publisher. Photo by Keith Nichols.
VIDEO OF ONE OF CLAY'S TALKS [Note: may want to fast fwd 5 minutes] https://etv22.viebit.com/player.php?hash=FCG9116qnZZa
Watch A 78-Second Clip From One of Clay's Talks: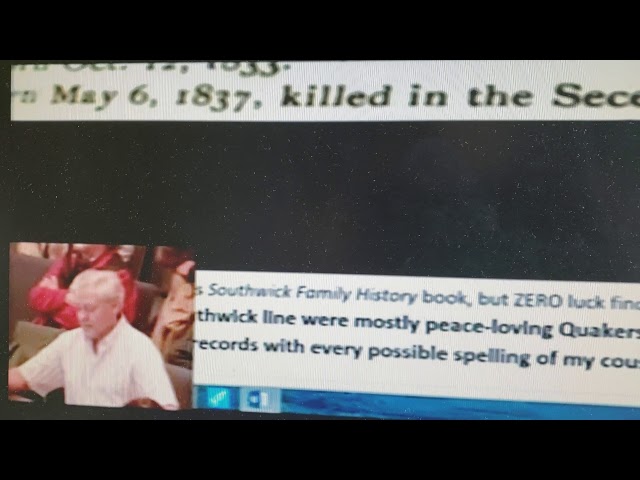 /